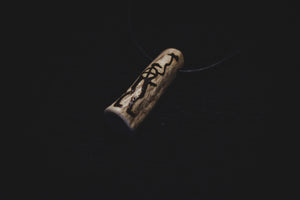 Among the thousands of petroglyphs scattered all throughout Scandinavia, you see many depictions of warriors. This design is inspired by those images.

Each piece will depict similar but slightly unique warriors. Usually with shields and weapons including a combination of spears, swords and axes.

Each antler pendant is approx. 2 inches in length. It has been drilled and sanded to remove rough edges. It is strung upon a 36 inch leather cord.