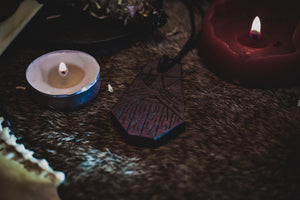 Óðinn; Aldafaðr and Ásagrimmr. Father of Men and Lord of the Aesir. Keep him close to your chest, and may his wisdom guide you. 

This representation of Óðinn has been hand burned into an Purple Heart pendant, and treated with danish oil to give a beautiful finish and protect the wood and the design.

Purple Heart is a magnificent hardwood. For pendants such as these, there is no better wood. 

The pendant comes with an adjustable length black leather cord.
Pendant is approximately 2.5" in length.
 *PRODUCT MADE TO ORDER*
- Please allow 3-5 business days for production of these items -